There are various ways for you to bring your bike to one of our Sportives and Cycling Tours. You can of course fly with your bike or you can use a shipping service. If you want to remove all the hassle then renting a bike locally is a great option. We offer a service where your bike will be waiting for you on arrival. You can choose from 3 levels of bikes equipped with Shimano 105, mechanical Ultegra or Ultegra Di2. Bikes are ready on arrival on Thursday or Friday and can be returned on Sunday night.
Bikes available are:
Giant Contend SL1 Aluminium Shimano 105 – £140 Giant TCR Advanced 1 Carbon Shimano Ultegra – £190
Giant TCR Advanced 0 Carbon Shimano Ultegra Di2 – £240
Extra days before the event are available at £25 per day per bike.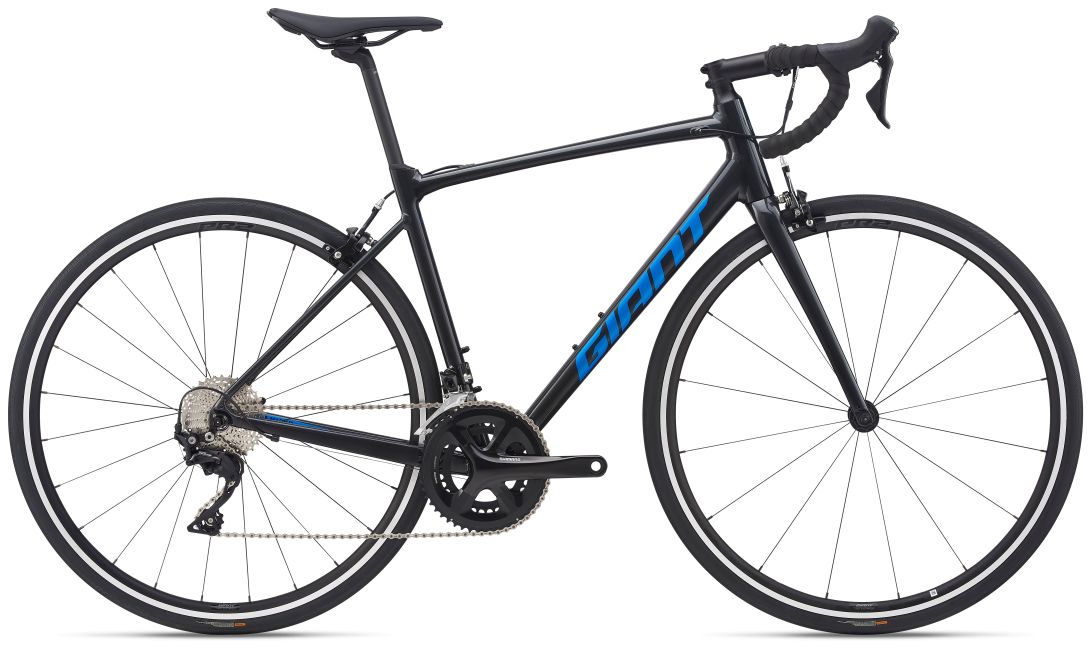 Giant Contend SL1
Prices from £140 for a weekend rental
Made with a lightweight ALUXX SL aluminium frame, Contend SL features balanced geometry for versatile all-rounder capabilities. The rear triangle is designed for quick acceleration, while the front end puts the rider in a confident position for comfort and control. Its unique technologies, including a D-Fuse composite seat-post and tubeless Giant Wheel System, give it a smooth ride that's perfectly capable on all types of road terrain. From the hills to flats, smooth roads or rough, Contend SL does it all. Frame is specifically engineered to produce a balanced, all-rounder feel that blends confident rider positioning with agile road handling.
• Sizes – XS, S, M, M/L, L, XL
• Shifters – Shimano 105
• Front derailleur – Shimano 105
• Rear derailleur – Shimano 105
• Brakes – Tektro
• Brake levers – Shimano 105
• Cassette – Shimano 105 11 x 34
• Crankset – Shimano FCRS-510 – 34 x 50
• Wheels – Giant S R3
• Tyres – Giant S R3 – 700 x 25
• Weight – 8.8kg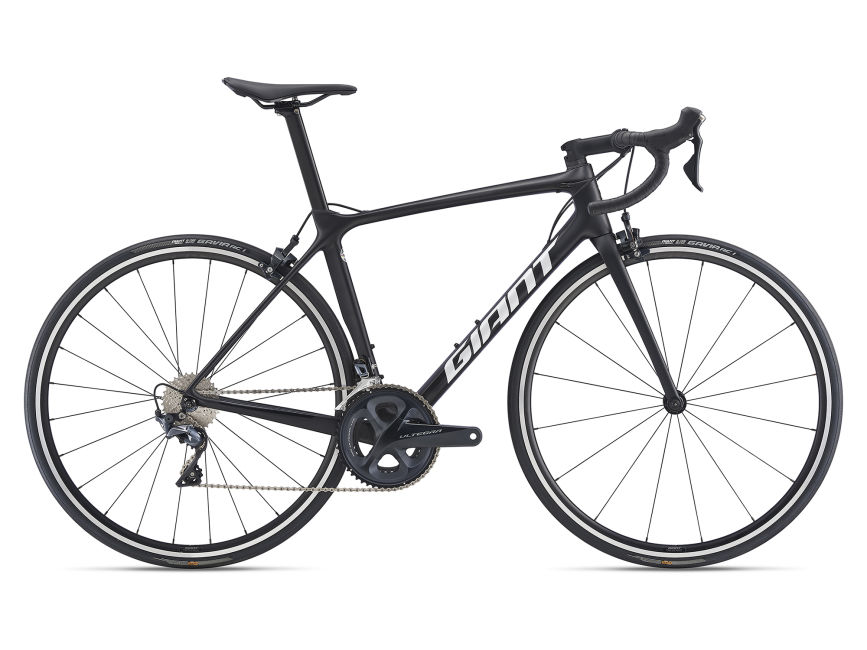 Giant TCR Advanced 1
Prices from: £190 for a weekend rental
The new composite frameset saves on excess grams, without compromising pedal stiffness. This makes the TCR Advanced for all-round top performance on the road. The aero-shaped frame tubes help you climb faster, flame efficiently across the flat and steer sharply into the corners. The OverDrive steering system and the MegaDrive downtube are designed to benefit direct steering. The Variant seat-post provides an ideal mix of efficiency and compliance. This way you stay fresher, even with a longer endurance training.
Specifications
Sizes – XS, S, M, M/L, L, XL
Shifters – Shimano Ultegra
Front derailleur – Shimano Ultegra
Rear derailleur – Shimano
Ultegra Brake- Shimano
Ultegra Brake levers –
Shimano Ultegra Cassette –
Shimano Ultegra 11 x 30
Crankset – Shimano Ultegra
36 x 52 Wheels – Giant PR2
Tyres – 700 x 25mm Weight – 7.85 kg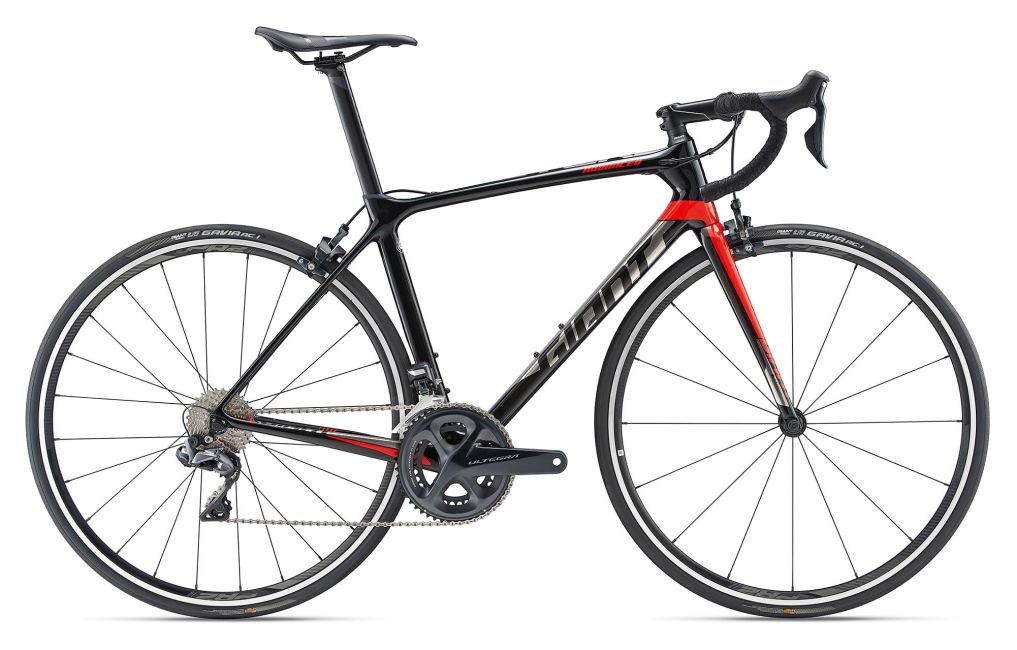 Giant TCR Advanced 0
Prices from: £240 per weekend rental
Thanks to the Advanced-grade composite frameset, the TCR Advanced offers unbeatable versatility. The OverDrive steerer tube system and MegaDrive downtube help you whizz through corners at high speed, while the Variant seat-post offers just enough comfort. The result is a 'pedal-pounding' stiffness for sprints and intermediate gears, plus energy-saving flexibility for those long days in the saddle. Due to its proven geometry, precise steering characteristics and stiffness, this frame design is the first choice for climbers and GC riders participating in the Giro d'Italia, Tour de France and other important races around the world.
Sizes – XS, S, M, M/L, L, XL
Shifters – Shimano Ultegra
Di2 Front derailleur –
Shimano Ultegra Di2 Rear
derailleur – Shimano
Ultegra Di2 Brake- Shimano
Ultegra Brake levers –
Shimano Ultegra Di2
Cassette – Shimano 105,
11×30 • Crankset – Shimano
Ultegra, 36/52 Wheels –
Giant PR-2 wheelset Tyres –
Giant Gavia AC 1 tubeless,
700×25, folding Weight – 7.7 kg